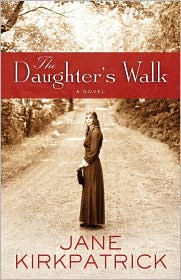 A daughter's thirst for adventure and a fresh start, her mother's tragedy...a 7,000 mile journey that did not end with their return home.
Based on a true story, Jane Kirkpatrick chronicles the real-life 7,000 trek of mother/daughter Norwegian women, Helga and Clara Estby. The author also explores how, after the defining trek, Clara's life changed and revealed secrets, upturned tradition and challenged the culture at every turn.
Jane Kirkpatrick, highly acclaimed historical fiction writer, sticks to the facts of what Clara did with her life after returning home to the family farm after the 7,000 mile round trip she and her mother took to pay the mortgage on their farm. Clara Estby changed her name, set out to not only recreate her identity...but find it.
Ms. Kirkpatrick weaves in all the facts, with only a little fiction, and in this paperback, gives you a highly engaging, emotionally gripping tale of loss, forgiveness and how one choice affected not only a young woman's life, but that of her family's.
I was given this book for free from Waterbrook Multnomah.